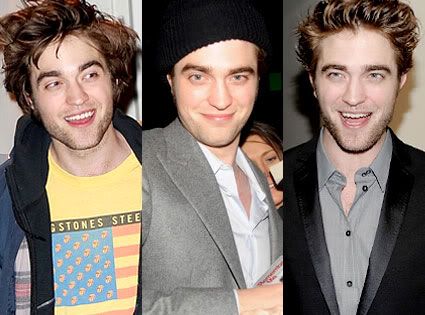 Do you Robert Pattinson fans feel like you're getting arthritis in your index finger?
Die-hard Twi-hards came out in forces clicking in support of our fave reluctant heartthrob in all of our recent polls. Basically it's safe to say Rob just wins at life, especially when it comes to Justin Bieber.
But the only person Pattinson couldn't defeat? Edward Cullen...

1. Twilight > Bieber Fever

Rob is a better party pal. Actually, it might be more accurate to say that Justin just doesn't have as loyal fans—or fans that are old enough to have unsupervised internet access.
So 94 percent of you voted that you would rather have the Twilight hunk be your wingman. We'd just rather have him as our date.
2. Tweet it loud and proud
Around 57 percent of you agreed that Twitter can be a good form of therapy. After Joseph Gordon-Levitt announced the sad passing of his brother we wanted to know how you all would handle tragic news if you were a celeb.
It's JGL's way to decide how to share the pain he's going through with his fans, so we say why not beat a sleazy tabloid to the punch and get it out there first?
3. Rachel McAdams is allowed to move on

This was a tight one, but around 52 percent of you approve of Rachel and Michael Sheen's unexpected, but blossoming romance (we don't think it hurt to have Twilight fans in his corner though).
McGosling will live on forever in our hearts, but we're kinda coming around to this random pairing.
4. Rob is a well-dressed Brit

Of course, 74 percent of you dig R.Pattz's style, and obviously that's how we voted too. Any guy who will wear a maroon suit to a premiere—to match his GF slash costar in white—is a style we can totally get on board with.
5. Edward trumps R.Pattz

In our tightest poll evah 50.2 percent of you said you prefer R.Pattz when he's in Edward form, meaning sans beard.
Obviously we prefer our Rob with just the slightest amount of scruff, but whatever floats Kristen Stewart's boat works for us. And she likes him any which way.